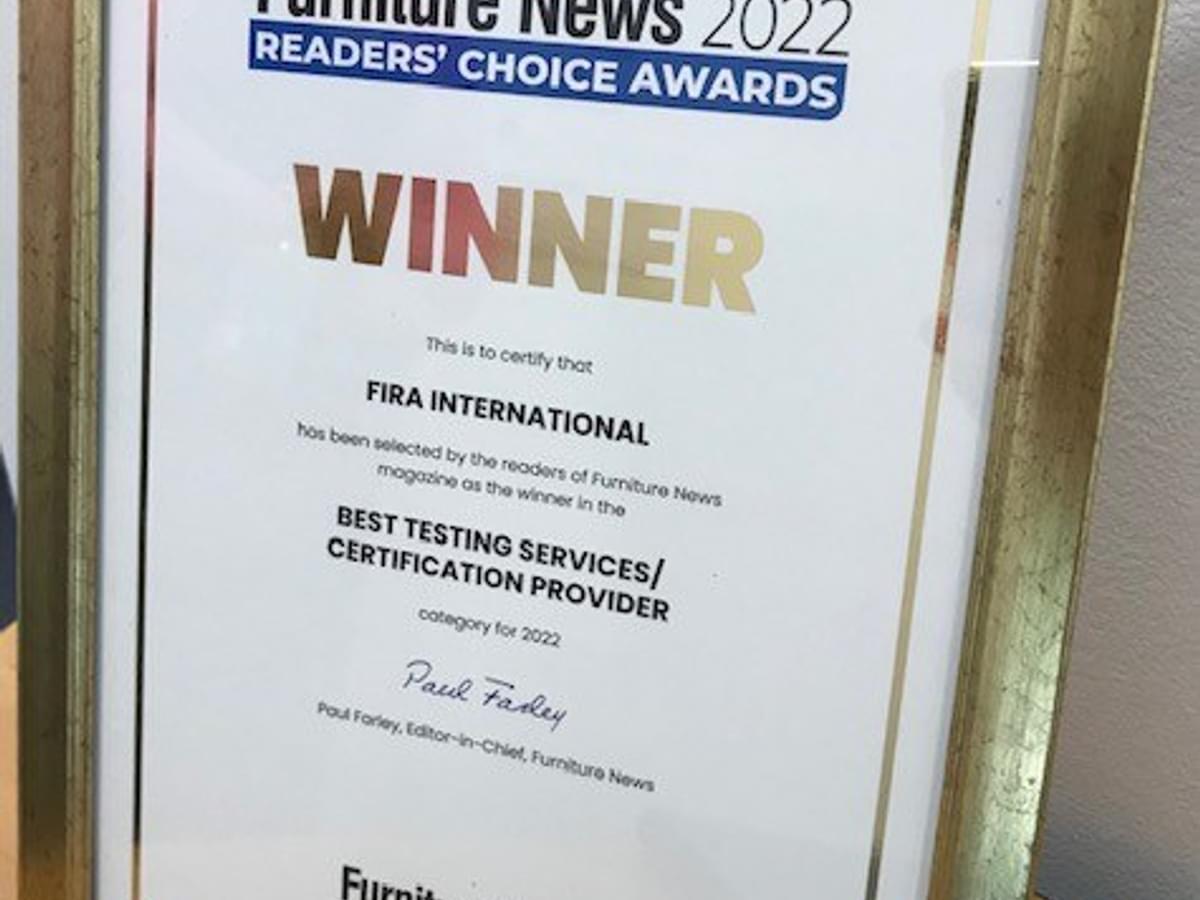 news
We've once again been voted 'Best testing / certification provider'
04 Aug, 2022
The whole team at FIRA International are delighted to have been voted 'Best Testing Services / Certification Provider' for the second year running in the Furniture News Awards.
We'd like to thank all our customers and the readers of Furniture News for taking the time to vote for us once again.

We've had a very busy time over the last 12 months. Most notably was the move from our former Maxwell Road site to our new custom-built facilities. Maxwell Road had been our testing hub since 1964, however, following significant investment from our parent company, Element Materials Technology, we were able to develop our new facilities from a blank canvas, enabling us to build a new laboratory to ensure we were best placed to support the furniture industry. In addition, by relocating so close to our former site we were able to ensure our colleagues experienced no relocation issues. Our experts are at the heart of everything we do at FIRA International and we're all very proud of our new facilities.

Recently we also gained further key expansions to our UKAS accreditation, mainly regarding international flammability testing. For those who export to America, we're now accredited to 'California TB 117-2013 Requirements, Test Procedure and Apparatus for Testing the Smolder Resistance of Materials Used in Upholstered Furniture'. Due to Brexit we're also supporting Irish exporters with accreditation to 'S.I. No. 316/1995 - Industrial Research and Standards (Fire Safety) (Domestic Furniture) Order, 1995'.
We'll continue to expand our UKAS accreditation to ensure we offer the widest portfolio of furniture testing.

As the service provider to the Furniture Industry Research Association we'll continue to play a key role in the group, currently examining potential changes to the UK domestic flammability regulations, Furniture and Furnishings (Fire) (Safety) Regulations as well as changes to the requirements for electrically operated furniture.
At FIRA International we offer a full suite of services to the furniture industry and related sectors. This enables us to offer support throughout the whole product lifecycle from prototypes to end of life.

Aside from testing and certification we also support with ergonomics, sustainability services, training, auditing and expert advice. We're the scheme administrators of the Furniture Industry Sustainability Programme (FISP), which has seen significant growth in membership in the past year, and of course we're the service provider to the Furniture Industry Research Association. Our experts undertake all activities on behalf of the Association, from supporting members with technical expertise right through to authoring all of their guides and publications.
We really touch on all aspects of the furniture sector.